We are a UK based ornamental fish welfare group aiming to raise awareness and promote best practice in aquatics and the fishkeeping hobby.
You might like to have a read about us and why we're doing what we're doing, check out some of our articles and guides, and have a read through our care and information section.
You can also follow us on Facebook and Twitter to keep up with our latest activities and news from us and other sites and groups.
Talking of news from other sites …!  Below is a link to a project by Jack Perks following his Beneath the Waterline Project (featured on our Links we Like page).  Click the banner below to find out more and cast your vote.

UK National Fish Vote press release.
We've recently added a new section, Fish Tales, where the fish get to tell it from their point of view.  They'll be adding more thoughts in future but click the pic for their first offering:

Raising awareness
Raising awareness of issues within the fishkeeping hobby
Educating fishkeepers to provide better care for their fish
Reduce demand for unsuitable products/species/practices
 Providing resources
Articles
Photos (the ones below have proved popular!)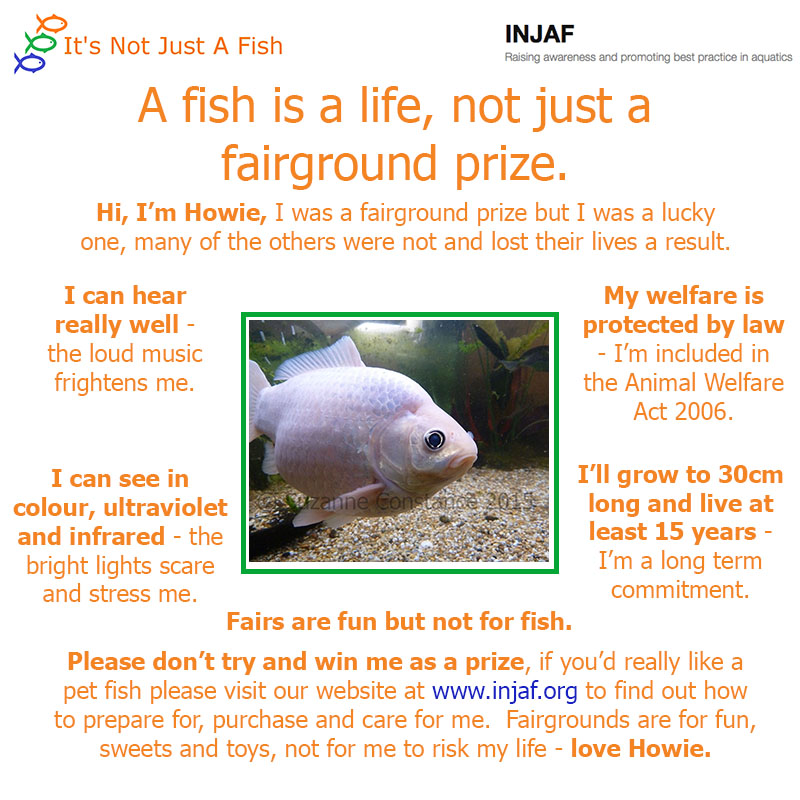 Reviews
Information
Results
We're building up the articles in our Beginner's Guides section.  This section provides information aimed at helping newcomers to the hobby avoid some of the common pitfalls. Even if you're a seasoned keeper why not have a read as well, you never know, you might find something new to you too.
If you're a beginner don't be afraid to look around our other articles too; as part of our aim to raise awareness in the hobby it's important to us that newcomers take some time to think about some of the issues that affect the hobby.
Promoting best practice
Encourage the industry to self regulate
Reduce the amount of unsuitable aquatic products for sale
Reduce the availability of unsuitable species
Sharing information
It's important to us that we share information from other people and organisations who are also working to raise awareness and promote best practice.  Have a browse through our Links we Like page to see what others are up to, and find out more about their work.
The future …
The INJAF site is growing, it's no longer the fry it started out as, but it's still got a way to go.
Over the next few days, weeks, months and yes, years we'll be adding to the site and updating our information. If you have anything you'd like to talk to us about please contact us on info@injaf.org  If we've made any errors please point them out and if you have any additional information or more details on anything we've covered please let us know.
We're always on the lookout for aquatic conservation projects to feature so please let us know if you're involved with something we could help raise awareness of.  We've started our conservation section with some local projects but any further afield are always welcome.
Like us on Facebook or follow us on Twitter to keep up with announcements about new additions to the site.