Making your own gel food for bottom dwelling fish is much easier than you might think, and because you can freeze it you can make large batches and only use it when required. It can be very handy for adding variety to the diet of bottom dwelling fish, and makes a great stand in for algae as well as helping young fish and fry find the nutrients they need in the format they prefer.
This should really be called 'How to make your own gel food for bottom dwelling fish and any other fish that happens to get a sniff of it'!  Whilst the recipe is aimed at bottom dwellers, the food usually proves popular with any other tank residents you might have., so make sure to keep some spare!
Jeroen Wijnands takes us through his version of gel food for bottom dwelling fish
Start with about one cup of green vegetables. I start out by collecting the stems from cauliflower and broccoli which we eat when they are in season. They will keep for a week in the fridge but you can also freeze them.  Other suitable green vegetables include courgette, shelled frozen peas and cucumber.
Shell the peas (frozen is fine, don't use canned!) by pouring some boiling water over them and leave them for 10 minutes. You can then easily squeeze the skins off. Chop the broccoli and the courgette into dice sized pieces.
To that I add some nettle (warning, do not add the stems!) but you could also use dandelion leaves, and then add just enough water to cover the bottom of the pan and keep it from burning. Gently boil the veg for 3-4 minutes, you could also microwave it in a suitable container. You're not looking to cook the stuff, just soften it enough to blend. It should be a gloopy consistency.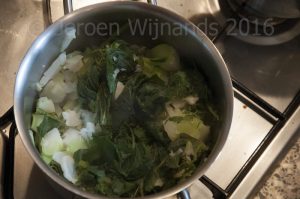 Now add a handful of frozen spinach. The cheap supermarket own brand is fine for this, just read the label to see nothing else has been added.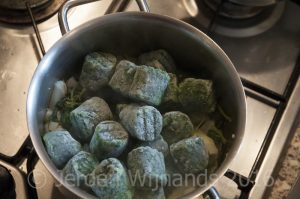 Let these melt and then get out your particle accelerator (if you don't have one, a food processor or handheld mixer will do!).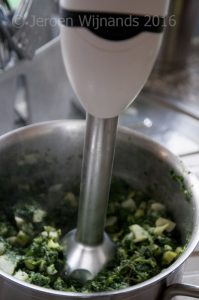 Blend it until you have a smooth paste that looks a bit like pesto.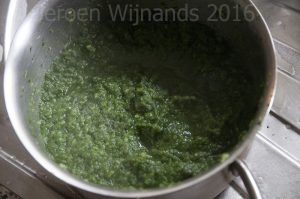 Time to get out your agar. This is a vegetarian gelling agent made from seaweed. It's sold in various forms; I prefer these little sachets.
The back of the pack will usually have directions on how to make jam (how much to use and how long to cook it for). Follow the instructions but add about 50% more agar to your green gloop than you'd use for jam. You can also use vegetarian gelatine.
I also like to stir in some parsley, dried will do. You can also stir in some spirulina powder.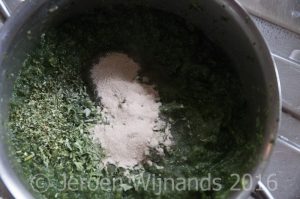 Once you take it off the heat stir in a bit of protein. I always have frozen cyclops or daphnia so I use a few cubes of that. If you don't have frozen food you could use some good quality flake, just crumble it up in your fingers. You could also add a few bits of frozen fish or seafood in step 3. I also add some dried or fresh garlic to make it smellier and more easily found by the fish.
Pour into a mould of some kind and allow it to cool and set (line the mould with clingfilm first to make it easier to get the food out once set).
After it's cooled down to room temp keep it in the fridge for an hour or so and then carve into cubes the size of a teaspoon. Put the cubes in the freezer but shake the bag or the container in which you store them well after about 2 hours freezing, this will help keep them separated.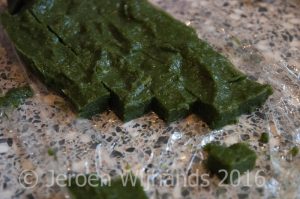 Feed straight from the freezer. It will thaw and release some bits which most mid-water fish will pick up and it will sink in minutes.
Author:Jeroen Wijnands
Photos: Jeroen Wijnands
Further reading:
Feeding Your Fish: Diet, Nutrition, How and What Fish Eat (from fishkeeping.co.uk)